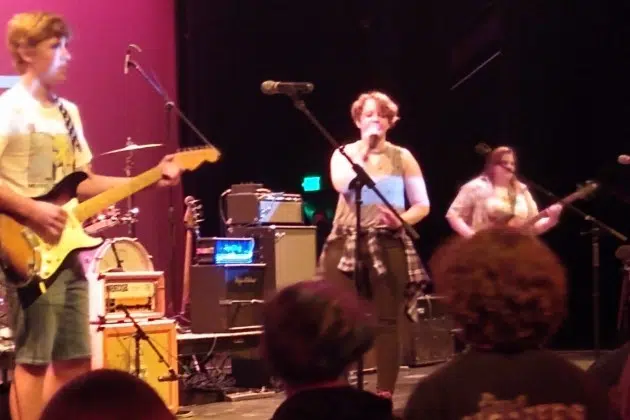 (KNSI) – Music campers brought their rock variety to Granite City on Thursday night.
With names like The Sandler's, 4 Munkies and Space Politics, bands performed rock classics at the Paramount Theater in St. Cloud as the Wirth Center presented its 16th annual School of Rock performance.
The energy was plentiful as the campers formed an ad hoc "mosh pit" on the stage, dancing and cheering as their mates performed hits such as "Jessie's Girl" by Rick Springfield and a strange sound to Joan Jett. and to the Blackhearts with "I Love Rock and roll."
Campers gather for a two-week, high-intensity six-day camp at Calvary Community Church, then perform for their fans in an intimate downtown setting that quickly takes on the atmosphere of a young and lively concert. that all ages appreciate.
Barrett's Music of St. Joseph was this year's presenting sponsor. Owner Micah Barrett described the music as "the last big elective class" at the start of the event Thursday night. He compared music to a world of quick results and instant gratification as he praised this year's campers, stating "it takes time to make great music" when describing their dedication to them. job.
The camp is open to students in grades 6 to 12 each year and incorporates all musical instrument abilities.
___
KNSI News thanks Ryan Cunningham for writing and submitting this story. Cunningham can be heard on KNSI Radio from 9:00 a.m. to 11:00 a.m. every day of the week.
___
Copyright 2021 Leighton Enterprises, Inc. All rights reserved. This material may not be broadcast, published, redistributed or rewritten in any way without consent.