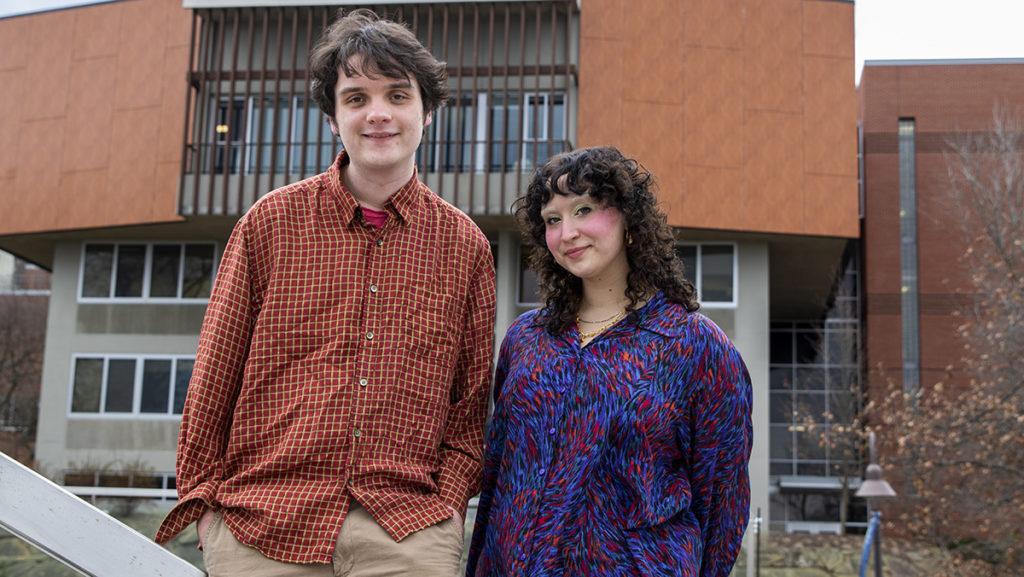 On a blustery Friday night in December, junior Wallace Petruziello took to the makeshift stage in a group of student apartments alongside seniors Justin Lindsay, Gabe Levin and Peter Jensen to play the role of Release library. The band performed for a crowd of enthusiastic Ithaca College students – for the first time in nearly two years.
What may look like an ordinary college party from the outside is what performers and regular attendees call a home show – a deeply influential and community aspect of music culture at college. For years, off-campus homes have hosted groups of college students to perform in front of their enthusiastic and supportive peers. These performances gave growing groups the opportunity to perform live and build a following before branching out into the local musical arena. But the ever-expanding scene came to a halt when the COVID-19 pandemic sent students home in March 2020. Groups like Library of Egress were forced to put their careers on hiatus, until one group of students organizes the first fair organized since February. 2020 December 3.
Library of Egress singer and guitarist Petruziello said the band hit their stride just before the pandemic began and had several concerts planned after the spring break 2020. He stressed the importance of the show on newer and said it is replaying live. got the group back on their feet.
"The only way to keep a scene alive is for there to be people who really take the initiative to make it happen," said Petruziello. "And that's why it was so great, it ended up being the best night of the semester." I felt like I was at Ithaca College again, just like when I was in first grade.
Library of Egress singer and guitarist Lindsay said one of her biggest worries about the lack of house shows was that the culture was going to die out. He said that without the incoming classes being able to attend a performance, he worried that music students would no longer be inspired to form groups.
"[House shows] they just feed the music scene here and they inspire kids to start their own bands, "Lindsay said. "There are very few bands on campus right now, and I think it's because of the lack of house shows… a lot of them just inspire the next generation of musicians here. "
Student groups better known as Quail were able to win audiences at home shows before the pandemic hit. For this reason, Quail was well enough established to perform at local venues like The hideout in February 2020 – but the new bands weren't so lucky.
Junior Athena Rajnai said she teamed up with Petruziello to form the duo Clothes after the start of the COVID-19 pandemic. Rajnai said that due to the lack of in-house shows, Vestments was not given any opportunity to perform live.
Rajnai also said that they frequently attended house performances in their first year and that as a student in music school he saw groups of older students building their fan base. thanks to these performances.
"If you haven't really done house shows or anything before that, you don't really know who your audience will be," Rajnai said. "[Shows] give you a reputation within the university community which is within the great community of Ithaca and people will want to come to you because… you have a reputation.
Petruziello said that while there have been opportunities to perform on campus, they are rare and do not offer the same culture as house shows. Petruziello said Library of Egress performed at a campus event called "Terrace rocksIn the fall of 2019, but the event has not offered live music since.
"I think one of the main reasons people are so interested in this kind of local music is that most of the time it feels like a party," said Petruziello. "Home performances create that space for musicians to show off to their peers and just say, 'Hey, this is what we are, this is what we are.,' aAnd it was definitely to the benefit of people like us.
As a participant and performer, Rajnai emphasized the role that house shows play in bringing students together. They said they think the only way to revive the culture is for students to come together to create opportunities for it to thrive.
"I think sometimes students need to develop a little more of a sense of oneness, especially between artists," Rajnai said. "Everyone is sort of waiting for the scene to come back, and I'm not sure if that's really a feasible option during our time here… Let's create opportunities for ourselves so that we can rebuild everything and leave something for them. students who have I have not yet experienced this.