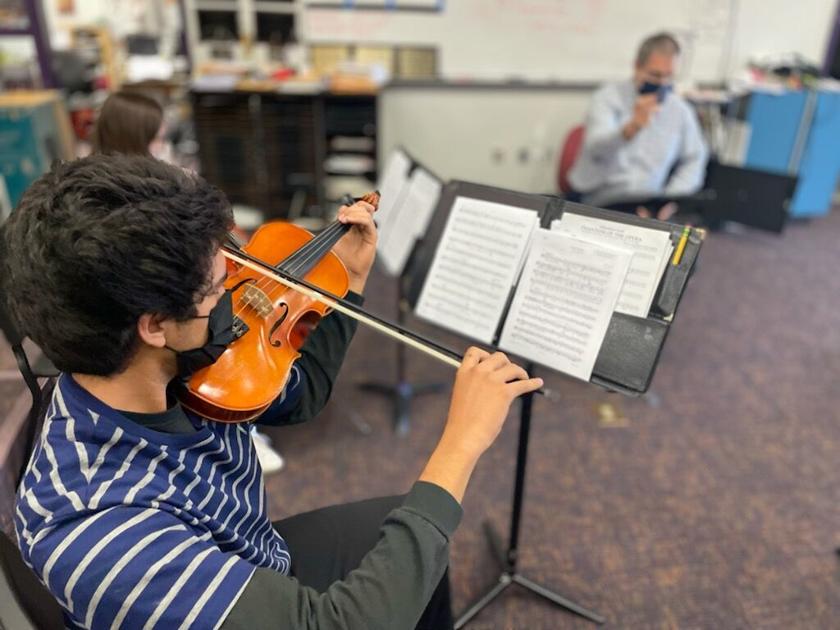 EL CENTRO – Under the tall hair of an unpretentious high school student hides a musical talent that only his high school mates and colleagues in the college band can achieve, but his two-time conductor and teacher, Dr Matthew Busse, says senior Dante Villegas has the skills, drive and passion to make music successful beyond high school.
Southwest High School (SHS) student and musician Dante Villegas has been playing viola since grade five, drums since grade eight, and has been learning guitar in recent years, he said. He has rehearsed and performed with the SHS Chamber Orchestra – the highest level of student-musician skill the school offers for strings – since his freshman year, has excelled in the SHS Band during the marching and concert seasons. as a snare drummer and percussionist, is the drummer of the school's jazz group on drums and is a member of the Imperial Valley Symphony Orchestra.
Villegas is also the president of the Club Orchestra. SHS group teacher Patrick Yanni says Villegas has been a section conductor in the drum line since his second year, in a jazz group since his first year, a member of the Imperial Valley Music Educator Honorary Group Association in percussion and an honorary orchestra on the viola.
Dr Busse said it took a bit of conviction for Villegas to join Southwest in his eighth year as he wanted to attend Central Union High School as a group, but the lure of being both in the orchestral program and in the program group attracted Villegas.
"I ended up talking with him and his mother and I think that convinced him because I said, 'Whatever you're going to do in the Central group, you can do it here, and you can too. playing the viola, "" said Dr. Busse. .
"He has always been an outstanding and outspoken member of the orchestra, and a leader in a sense," said Dr. Busse, "and he is dedicated to what he does. Every day after rehearsal I can hear him outside practicing until I have to leave or until he goes to a jazz band.
Yanni agreed, saying Villegas' leadership is also important to the bands in the Southwest.
"His leadership has been so important, especially this year as we try to bring the group's program back to where it was before the pandemic," he said.
Villegas said he was initially interested in musical performance because his parents were supportive of us, having introduced him to various types of music from an early age.
"I guess it all started with the presentation to my primary by Ms. (Marissa) Gohl," Villegas said.
Originally having some interest in the flute, Villegas said that seeing older students playing stringed instruments in Gohl's presentation made him notice and want to try it out himself.
"I saw them do it and I said, 'Ah, that sounds fun,'" he said. "And all the other things they said we were going to join (at)… you can travel on different field trips and stuff like that (got me interested)."
Villegas said that during his high school music career, he traveled with the SHS Orchestra to music festivals and conventions, and performed in San Francisco, Orlando, with the COVID-19 pandemic stopping them. field trip opportunities for his junior and senior years.
In the marching band, Villegas competed as a snare drummer for parades in Brawley, Heber, and El Centro, with the group's annual outing to San Diego State University's High School Band Night – formerly held at Qualcomm Stadium in San Diego – "where more than 1,500 band members and color guards from more than two dozen schools" would perform, according to SDSU.edu.
Villegas said playing live with his peers "keeps him going." He said his "ultimate goal would be to be a successful classical musician; enjoys performing in orchestras and on tour playing all types of classical music.
Villegas will perform on the viola on Saturday, October 30 during the SHS Orchestra Fright Night concert, an immersive experience that will combine spooky music, sound effects, images and a petting zoo, where the audience can try out playing some of the instruments of the orchestra. themselves, said Dr Busse. Fright Night will also feature a Halloween costume contest with prizes for the winners.
Villegas will also perform with the Imperial Valley Symphony during their concert on November 6, which will also be held at the Jimmie Cannon Theater at Southwest High School.
"Honestly, just the idea of ​​playing, of going on stage with all my fellow orchestra members and musicians who want to play as much as I do (that's what keeps me going)," Villegas said.
"Doing something that we all love to do is really rewarding when we all get together and you really start making music," he said. "The whole trip – the practice and preparation for the gig – the process is also worth it."
Dr Busse said he believed Villegas could go a long way in music after high school, "especially in education".
"I know he wants to make music when he leaves here, so I try to give him as many opportunities as possible to get a real feel for it," said Dr Busse. "I'm trying to prepare him for the brutal world of being a music major."
"He's just passionate about music, and that's really what I want from a student: the passion and the desire to constantly improve, because without it… you won't get very far in music," said he declared.
The SHS Orchestra Fright Night concert event takes place on October 30 from 7 to 8 p.m. at the Jimmie Cannon Performing Arts Theater in Southwest. Pre-concert activities begin at 5:30 p.m. Presale tickets can be purchased online for $ 8 at eventbrite.com or by calling the SHS ASB office at 760-336-4100, or at the door on the day of the event. event for $ 10. All proceeds will go to SHS Orchestra programs and future field trips.
The Imperial Valley Symphony will be holding its 48th season fall concert on November 6 starting at 7 p.m., also at the Jimmie Cannon Theater. The Fourth Symphony will play excerpts from Beethoven, Verdi, the Capriol Suite by Warlock, Vaughn-Williams and the Russian Sailors' Dance by Gliere by The Red Poppy. The IV Symphony concert will be free.
Both concerts are events for all ages, said Dr Busse. Southwest High School is located at 2001 Ocotillo Avenue in El Centro.
"Make music with everyone; it's joy, "Villegas said. "This is what I think a musician really lives for."
"It's just fun doing it," he said.