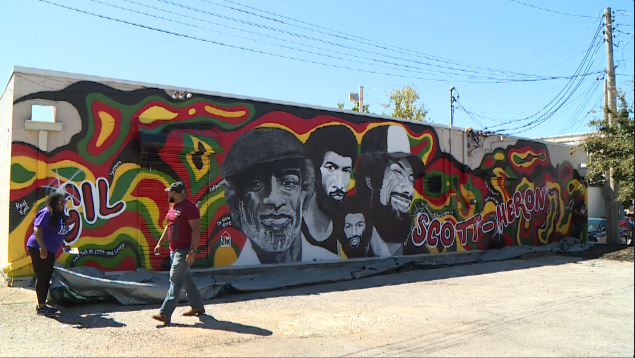 JACKSON, Tenn. — The Jackson community honors a world-renowned musician.
A new mural was revealed in downtown Jackson honoring Gil Scott-Heron Friday morning.
Before becoming a musician, author and poet, Gil Scott-Heron spent most of his formative years here in Jackson, where he was one of the first three African-American students to attend Tigrett Middle School.
Wendy Trice Martin, president of the Society for African American Cultural Awareness (SAACA), declares her passion behind the celebrations.
"We're just excited, excited to be able to celebrate it and to be able to make it an annual event," Trice Martin said. "Because he, when young boys and girls, from Jackson, Tennessee, they need to know, to know the name of Gil Scott-Heron, and what he did, for the contributions he made to this city."
James Cherry, president of the Griot Collective of West Tennessee, recounts the example set by Scott-Heron.
"Anything is possible in your life, if you make the right decisions, do what you're supposed to do, and work hard, the world is big and full of possibilities," Cherry said. "So Gil Scott-Heron is an example of that. He comes from a time when it was segregated, but yet he was, he used his talent that he had, he was very good at writing and it won him university scholarships. So, thanks to these scholarships, he went on to become an artist.
Rose Newhouse is the mural artist, and she shares what this project has meant to her.
"I feel like I'm part of the story," Newhouse said. "And my children, grandchildren and great-grandchildren are going to say, 'My grandmother painted this of this historic man, and so mom, grandmother and great-grandmother are part of the story too .'"
The celebrations will end with a concert at The Amp starting at 5 p.m. on Saturday evening.
For more news in the Jackson area, click here.