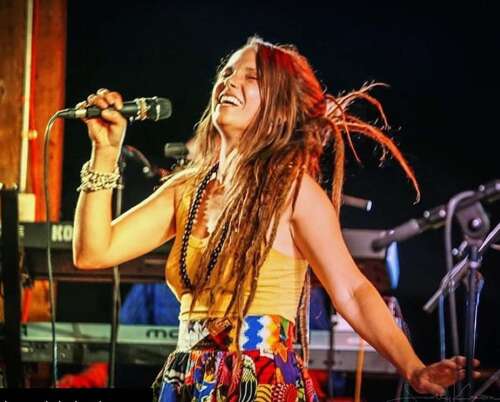 Local reggae band Niceness, fronted by lead singer Koral Delatierra, will perform at iamMusicFestival in Dolores on August 26-27.
IamMusicFest organizes two days of music
A new music festival will take place in Dolores on August 26 and 27.
The IamMusicFest features 13 bands alternating between two stages.
Evening shows will take place on a lot next to Kokopelli Bike and Board and on the outdoor stage at the Dolores River Brewery across Central Street.
On Friday, the lineup is made up of Lavalanche, Tone Dog, DJ Panacea, Haro in the Dark, Niceness and Hello Dollface.
On Saturdays, performances are given by Bentley Monk, Loki Moon, Cousin Curtiss, Sean Farley, Baracutango, Liver Down the River and Elder Grown, with Sam Kelly of Dolores on saxophone.
IamMusicFest, based in Durango, began eight years ago to promote live music and music education for young people, said director Jesse Ogle.
"We're branching out into local towns, providing opportunities for professional musicians and artists," he said. "We like to stay creative and not do the same thing every year."
So far this year, they have organized eight regional music festivals. Last year, they hosted 12 artists' concerts and galas.
A portion of the proceeds goes to music programs and workshops at local schools, Ogle said. The Dolores Festival will benefit Dolores Schools music programs.
The organization holds regular concert series in Durango and has recently expanded its events to Mancos, Silverton and now Dolores.
IamMusicFest events typically feature the world of artistic expression, which may include artwork, dancers, comedians, circus acts, and poets, although the Dolores event does not include this aspect.
At Dolores shows, audiences will appreciate the variety of musical genres the festival brings, Ogle said, and there are some hidden gems.
"It's a chance for people to be exposed to new music that they might not have heard, it's a great chance for that," he said.
Styles include blues, soul, reggae, singer-songwriter, electronic dance music, funk, and Americana.
Tickets are $15 on Friday and $20 on Saturday. A two-day pass costs $30.
Visit iammusicfest.us for more information, tickets and to volunteer.