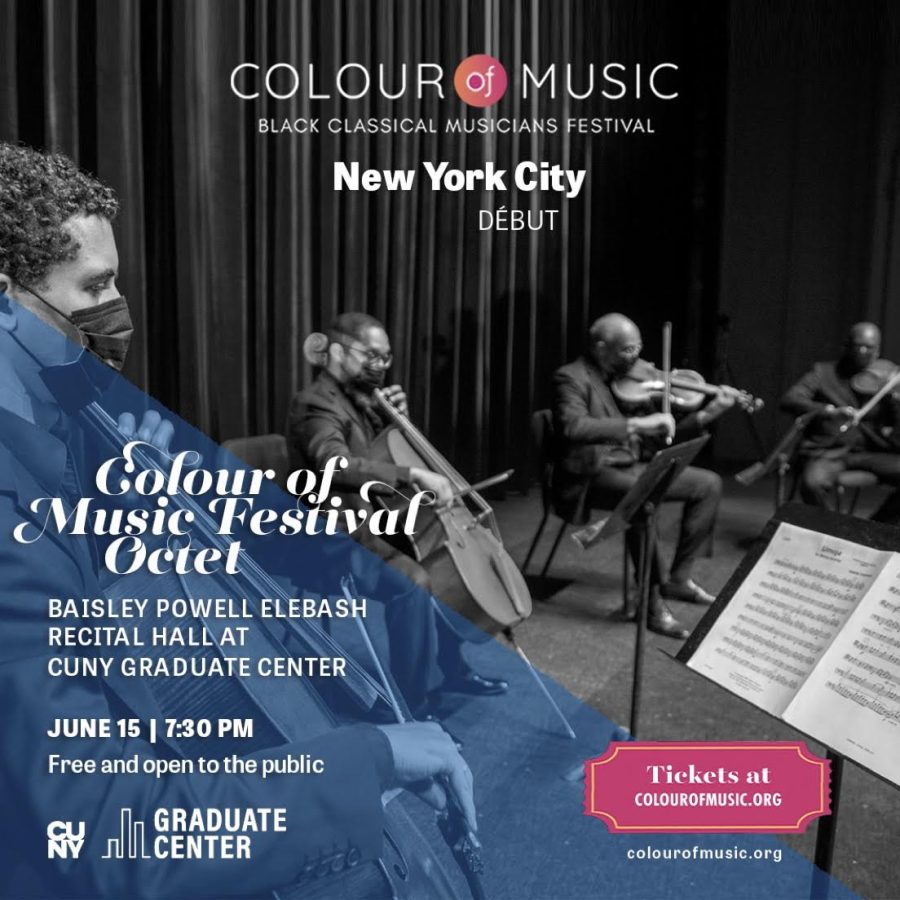 The Color of Music Festival made its New York debut at the CUNY Graduate Center on June 15.
During a public performance at the Baisley Powell Elebash Recital Hall, attendees were able to listen to classical music by black composers for free.
Based in Charleston, South Carolina, the festival has been touring the United States with black musicians since 2013. Performances include baroque, classical and 20emusical standards of the last century by composers of African descent.
The objective of the COMF is to make black composers known. These artists, like the Franco-African composer Le Chevalier de Saint-Georges, are better known internationally, according to the festival's website.
"Thanks to a generous grant from the National Endowment of the Arts and in partnership with the CUNY Graduate Center and CUNY TV, we are thrilled to bring this historic performance to America's cultural capital," said COMF Founder and Artistic Director Lee. Pringles. Broadway World. "Our home base of Charleston, SC is itself known for its iconic arts festivals and we are proud to bring New York audiences the classic Black contributions of a region where 40% of all Africans arrived on the North American continent."
The ensemble of musicians includes Alexandria D'Amico, Caleb Georges, Michael Jorgensen, James Keene, Kenneth Law and Ryan Murphy. The group was joined by German-born violinist Anyango Yarbo-Davenport and French violinist Romuald Grimbert-Barré.
The performance featured chamber music composed by Black, including a string quartet arrangement of Valerie Coleman's "Umoja" and Coleridge-Taylor Perkinson's String Quartet No. 1 "Calvary."
The evening also featured "The String Octet in E flat major, Op. 20" by German composer Felix Mendelssohn.
The event was hosted by CUNY's Office of Academic Initiatives and Strategic Innovation. Brian Peterson, Dean of the Office and Senior Vice President of Administration and Finance, told Broadway World he was thrilled to welcome COMF's debut to the city.
"The performance showcases the rich and diverse talents of performers and composers at a time when we need to be intellectually inspired and spiritually uplifted," Peterson said. "We are proud to embark on this new partnership with the Color of Music festival and know that audience members will be energized by the live performance."
Complimentary tickets were available on the COMF website and at the Graduate Center box office on the day of the performance. Tickets were required for entry.
CUNY's performance was the first of two in COMF's "New York Chamber Music Series." The festival then performed at Carnegie Hall's Zankel Hall on June 17.
Both performances were early celebrations of Juneteenth, which was recognized as a federal holiday in 2021.
"Thanks to civil rights activist Opal Lee, Juneteenth is now a national holiday and the Festival is honored to have our first New York performance celebrating this milestone," said Peterson.