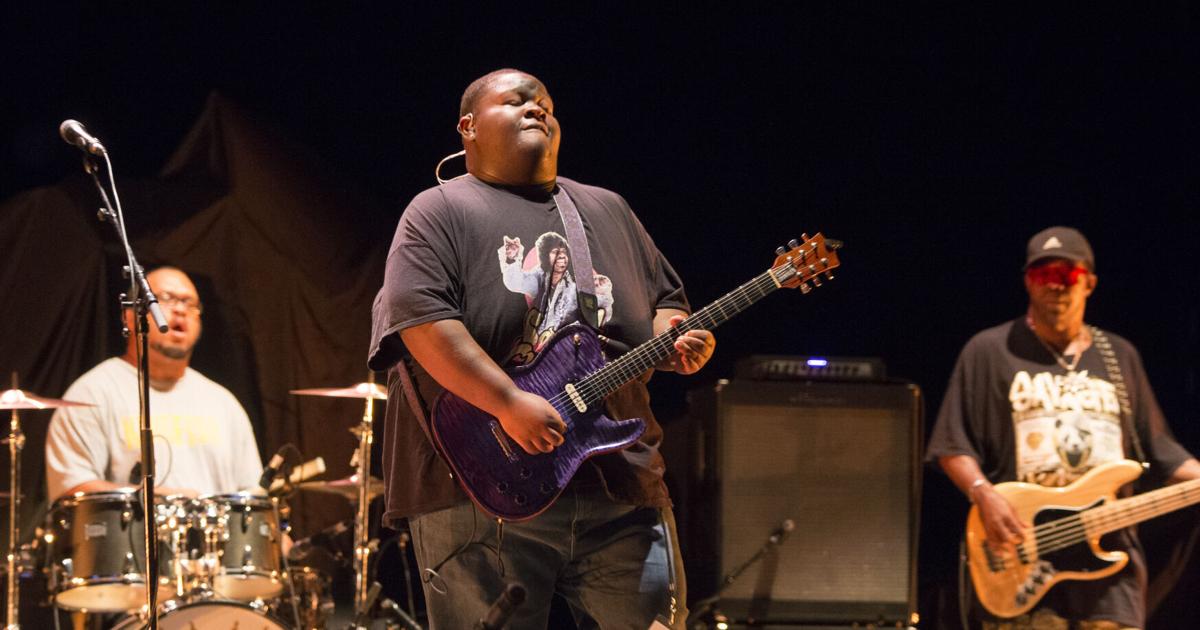 By Daniel Durchholz Post-Expedition Special

Young bluesman Christone "Kingfish" Ingram hails from Clarksdale, Mississippi, which many consider the birthplace of the blues.
This is where Highway 61 intersects with Highway 49, the legendary "crossroads," where blues legend Robert Johnson is said to have sold his soul to the devil in exchange for mastery of the guitar.
On his way to becoming one of the most promising talents in the blues, Ingram, whose latest album is the Grammy-nominated "662", heard these stories and wanted to believe them.
"That's funny," the 23-year-old said over a tenuous phone connection, hurtling down the highway toward his next gig. "When I was younger, I was more aware of that stuff, because you want to be drawn to the mystical."
He adds with a laugh, "But as I got older, I realized, you know, some things aren't so true."
Johnson did not make a Faustian bargain, Ingram insists. "He was gone for a year, and when he learned to play, he came back and kicked ass. It wasn't a deal for his soul.
Ingram, too, is determined, as James Brown said, to pay the price to be the boss.
He began his musical journey when he was just 5 years old, first playing drums, then bass, then switching to guitar and taking lessons at the Delta Blues Museum in Clarksdale, where an instructor l tagged with the nickname "Kingfish".
Musically, his classmates gravitated towards hip-hop, but Ingram was instead drawn to the blues of Muddy Waters, BB King and Buddy Guy – as well as the guitar gymnastics of Jimi Hendrix and Prince.
A quick study, Ingram began playing gigs in Clarksdale while still in elementary school. As a member of the Delta Blues Museum band, he performed for First Lady Michelle Obama at the White House in 2014.
Ingram's debut album, 2019's "Kingfish," went to No. 1 on Billboard's blues chart, garnering rave reviews and earning a Grammy nomination for Best Traditional Blues Album.
When it came time to record another, the question must have come to Ingram: how am I going to do better?
"Oh yeah. I'm not going to lie to you, it was in the back of my mind. You always want to put something out there that goes beyond the previous one. I think that's the point."
For "662" — named after the northern Mississippi telephone area code — Ingram spent the time of the pandemic writing songs on Zoom with Tom Hambridge, who had produced "Kingfish," and Richard Fleming. Eventually, they were able to meet in Nashville, Tennessee, for a week to record.
The process of writing this way seemed quite natural to Ingram.
"We were starting to bounce ideas around," he says. "I would come up with an idea or a riff, or he would come up with an idea. We would have just kind of put our heads together.
The resulting album, which also topped the Billboard blues charts, adapted less to the traditional styles of his blues heroes and was more like Ingram himself, incorporating rock, funk and even a bit of jazz. in the mix. Songs such as "Not Gonna Lie", "Too Young to Remember" and "Something in the Dirt" tell stories from his own life, which is perhaps why they sound so authentic.
"662" was, like its predecessor, nominated for a blues Grammy, but this time in the contemporary rather than traditional category. This year's ceremony will take place on April 3.
"Rock & Roll," the album's closing track, is about her late mother's struggles to support her early budding career.
"You know, for a long time my mom was my biggest supporter and my biggest champion," Ingram says. "She was my manager at one time. A lot of things that happened early in my career, she made them possible.
As Ingram moves forward and continues to be one of the figures most likely to carry the blues forward into the 21st century, Ingram says he's not about to forget some of the lessons his elders taught him. have learned along the way.
"They always told me to be authentic, to stay true to the roots of the delta," he says. "And that's what I will do."
What Christone "Kingfish" Ingram, Maggie Rose • When 7:30 p.m. March 25 • Or The Factory, 17105 North Outer Road, Chesterfield • How much $25 to $45 • More information ticketmaster.com