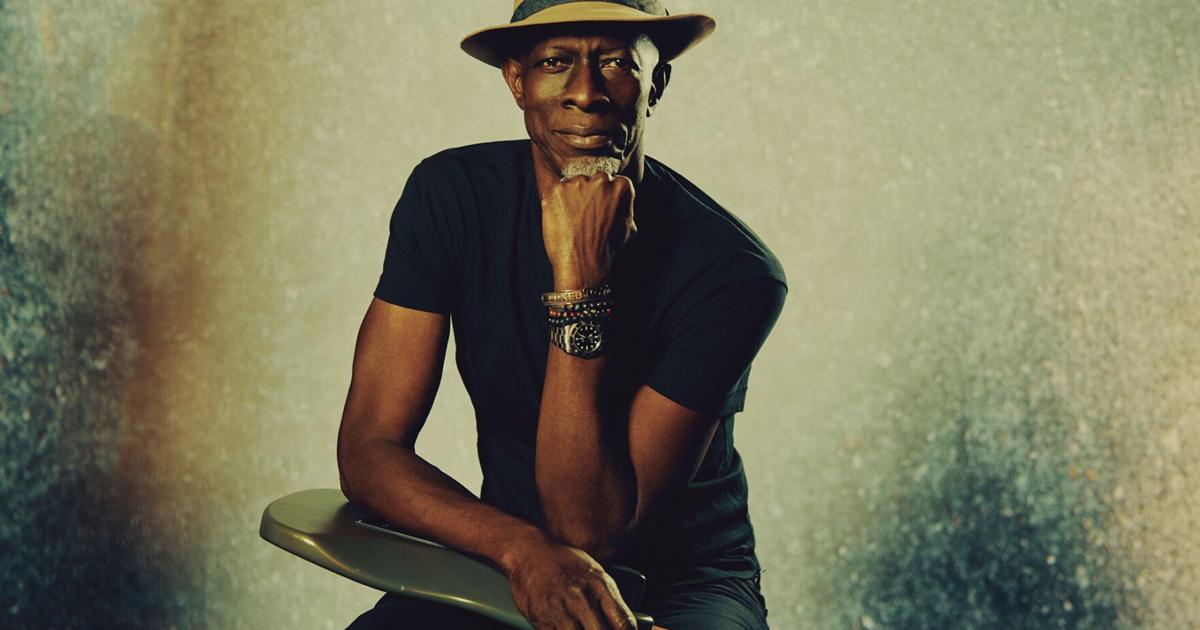 Old-school Delta Blues seems like a dying art these days. That being said, Keb 'Mo' has been keeping him alive since he started a solo career under his current name in the mid-90s. The Los Angeles native and current resident of Nashville brings an authentic sound that tells stories and does justice to the legendary style of the music. He also has a prolific catalog that stands against any other reputable artist today. To present this catalog as well as new material, he will take the stage at the Greenwich Odeum at 59 Main Street in East Greenwich on February 3 at 8 p.m.
Mo' and I had a chat before the show about his musical debut, his appearance in a play, his side career in film, and a new album he just released.
Rob Duguay: Before you started your own musical career, you played steel drums in a calypso band and recorded with fiddler Papa John Creach of Jefferson Airplane in the 1970s. How formative those moments were for you as a musician in terms of songwriting and collaborating and all that?
Keb'Mo': During that time, I was really learning about music, learning the basics of songwriting, and had the opportunity to participate in songs and co-write them while playing shows. I was introduced to music as a steel drummer when I was a teenager and played the instrument from age 11-18. I was just starting to get my feet wet learning all kinds of different genres of music and different styles and I actually just got a new steel drum and I'm learning it again.
DR: Very cool.
KM: Yeah, it was a very formative time that laid the groundwork for writing, recording and touring. At the time, I didn't know what an important experience it was, but it was really exciting. I was probably more focused on the girls than the music, but sometimes that's how you are in your twenties.
DR: Certainly, I can relate.
KM: It laid the groundwork for my late 20s where I played with Papa John until I was 26 or 27 and then came out on my own as Kevin Moore while trying to figure out how to be in the world of music. .
DR: In the early 90s you were also part of the musical Spunk where you played the Guitar Man character that you incorporated as a character on stage. How did you get involved in the musical and what was the experience like?
KM: Basically, I was the music in the room so I was still a musician. I had played before, so I was already in the acoustic blues zone, so I expanded from there while continuing my musical journey. The clothes I wore during the play were just my clothes with the hat, vest, shirt, jeans and shoes, I didn't really become the Spunk character. As a bluesman, I don't really have a lot of clothing choices and I wasn't even worried about my clothes, I was more worried about the music. I remember at first I couldn't remember how to carry a hat with me, I just wore baseball caps, but then I figured out how to carry a hat in a hatbox and carried it with all my gear. If I walk through the airport these days with my hat on, everyone will recognize me.
DR: You just mentioned the acoustic blues, do you have a preference between acoustic and electric guitar or does it all depend on the type of song you write?
KM: There is no favourite. The best thing about the acoustic is that you don't have to plug it into anything, but I like electric as much as acoustic. I started on an acoustic and the electric came later so I don't really have a preference. Whenever the app is needed, this is the one I play.
DR: You've also done stuff in movies where you've played Robert Johnson in the documentary Can't You Hear The Wind Howl?, you've starred and starred in a lot of episodes of Touched By An Angel, you've starred in the movie Honeydripper with Danny Glover and you wrote music for a few TV shows. Do you find acting and writing soundtracks come naturally to you, or did both mediums require some learning on your part in the beginning?
KM: Everything emanates from my career as an artist. For example, the theme for the TV show "Mike & Molly" was removed from my catalog, I did not go to write it. The one I'm currently doing for the sitcom B Positive is a collaboration between Chuck Lorre and myself. The key revolves around developing creative relationships with people like I do with music and my writing. I work with people I have relationships with, so I consider it all the same.
If I'm writing for a record or for a TV show, I'm really looking to get the job done and make what I'm doing work. There is no difference between playing on stage, making a record, mixing a record and writing a song, it's the same for me. It's about getting the job done.
DR: It's about looking at the task ahead of you, doing it, and doing your best.
KM: Yeah, and being honest while doing it at the same time.
DR: Absoutely. This week you will be releasing a new album called Good To Be. What can people expect when it comes out?
KM: I'm really happy with this album, I can't wait for people to hear it and see what happens. I never really know these days because there's so much great music but there's also a lot of noise in the world between social media, entertainment choices like streaming, going to the movies, TV big audience and Youtube. It's loud there so I'm hoping to reduce the noise a bit with this record where it has a chance to be listened to. I never hoped for a big hit, these are personally impossible to obtain or if it is possible, there is little chance and that is quite another thing. The album is all over the map in terms of genres but it all fits together and I'm very proud of it, I think it's my best.