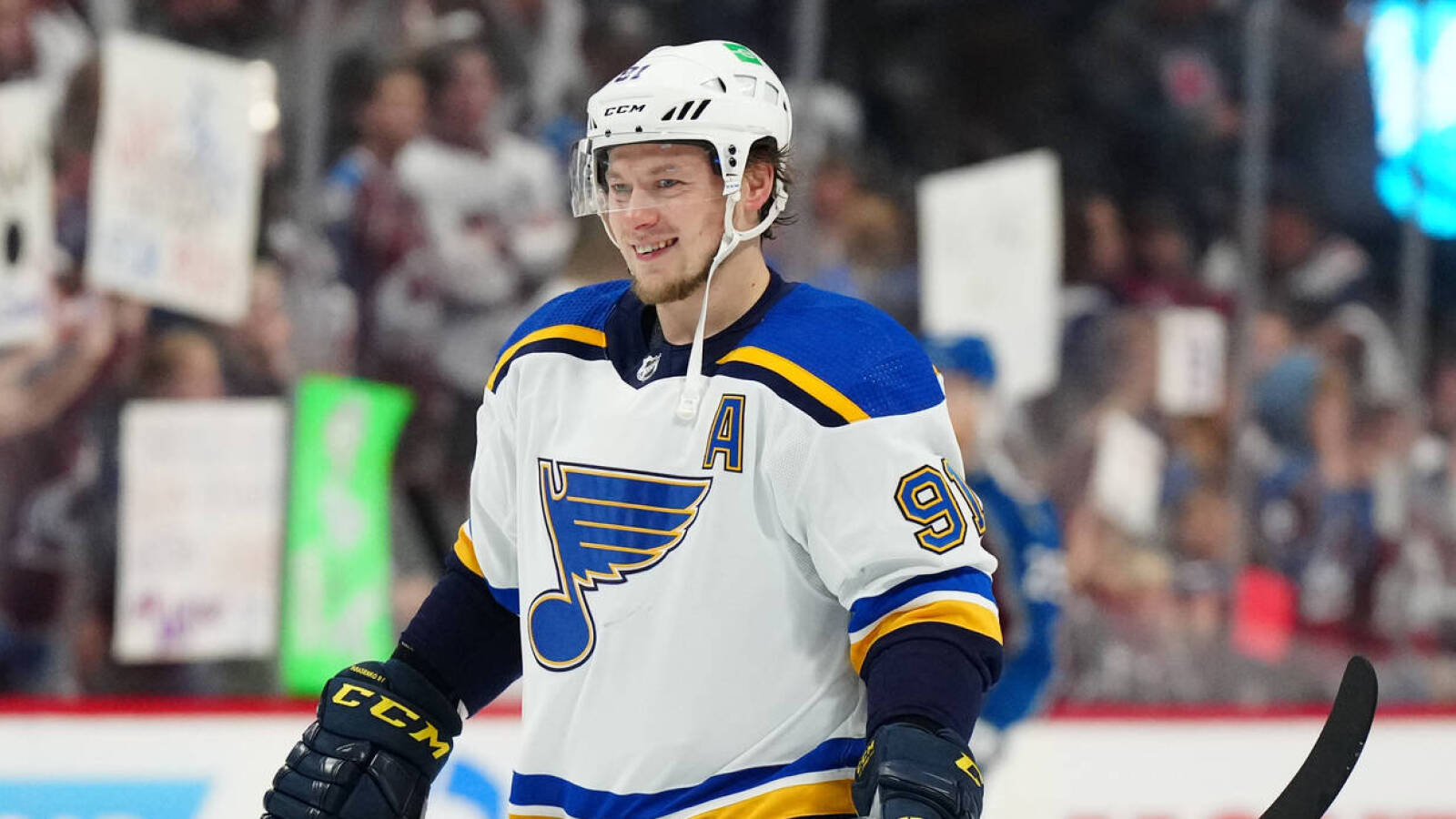 On the latest episode of Daily Faceoff Live, Mike McKenna and Frank Seravalli had a chat with The Athletic writer Jeremy Rutherford about the current state of the St. Louis Blues. They talked about the rapid departures of Vladimir Tarasenko and Jordan Binnington as well as the difficulties of Blues captain Ryan O'Reilly's start to the season.
Frank Seravalli: Glad to welcome back to the Daily Faceoff Live, Jeremy Rutherford who covers the St. Louis Blues for The Athletic, it comes to us what a great setup this is from the Canada Life Center in Winnipeg, JR how are you?
Jeremy Rutherford: I'm fine guys, how are you?
Frank Seravalli: Great, really great to have you. I want to start here with a 3-0 start for the St. Louis Blues. You know, I think one of the most interesting facets was seeing Jordan Binnington get off to a good start. You think of Ville Husso leaving and how that created a little question mark for this team. Can Jordan Binnington be the guy to get this team back into the playoffs, can he carry the ball for as long as the Blues need him? And again the sample size is short, but so far JR the answer seems to be yes.
Jeremy Rutherford: Yeah, I told you last year when he was sub-.900 as a backup goaltender that he would have .940 in the first two weeks of the NHL season, you remember that. He played tremendously well, you know the Blues had to play him that way, that 6×6 contract and Ville Husso went to Detroit like you mentioned a moment ago. They didn't have a lot of options, they weren't going to be able to move Jordan Binnington, and they needed him to rediscover themselves and he did. Again, you mentioned a small sample, we're only talking three games, but his .940 save percentage is fourth-best in the NHL right now among goaltenders who've played three or more games. That's the problem, the Blues just haven't played much yet, they were the last of 32 teams to start, only three games, and number four is on the way tonight in Winnipeg.
Mike McKenna: JR, I think your jersey is amazing knowing that you came today to talk about St. Louis hockey. I was wearing my Kirkwood Hockey jersey, thought you might like that. My question though is that Vladdy Tarasenko still looks like he's at the top of his game, he's got six points in three games, two goals, dominating on the power play, but he's in the last year of his contract and you know. 've already reported there was a request for an exchange, which now dates back several years. When this season is over or even towards the end, does general manager Doug Armstrong look at Vladdy Tarasenko and say thank you for your service and just let him walk? What is happening here?
Jeremy Rutherford: Yeah Mike it's a situation that could end like this you know the trade request a year and a half ago is moot at this point the Blues haven't found any takers at least to taste by Doug Armstrong. Then you end up in a situation where the guy puts in 82 points where are you going to get that kind of production from a guy winning I'm only saying 7.5 million but with guys winning 9/10 /11 in the league now. It's been a great season, he's had a good start, six points in the first three games. The Blues have scored I think 11 goals now and Tarasenko has been part of six of them. He got off to another good start, so do you know what happens at the end of this year? That remains to be seen because the Blues are tight against the cap they also need to re-sign Ryan O'Reilly you could be talking about as little as $15m left in the salary cap space with 13 players under contract . That's a lot to sign, so if you're trying to bring O'Reilly and Tarasenko back, it's going to be tough for Doug Armstrong unless the salary cap goes up to the $4.5 million some people are hoping for. We'll see, if it just goes up $1 million, there's no way they're bringing O'Reilly and Tarasenko back. At that point, you choose between your captain and the guy who led the team in points for a few years in a row.
Frank Seravalli: Yeah JR I wanted to ask about Ryan O'Reilly because you mentioned all the goals the Blues have scored and at least officially on the scoresheet O'Reilly didn't take into account exactly any of them them. No points in the first three games of course his game is much more than just points but when you look at the first three games is there any chance that this contract could weigh on him in this contract year ? Everyone handles it differently, not everyone goes out and has a Johnny Gaudreau-type contract season where he blows it out of the water. Or do you think it's something he doesn't focus on at all, he just happens to start slower.
Jeremy Rutherford: Yeah, a couple of things Frank, good questions, I don't think the contract necessarily bothers him, he said at the start of camp they had a bit of dialogue, there's no rush. Looks like they are going to turn around, both sides, his agent and the Blues in January. But you have a situation with Ryan O'Reilly, his offense has gone down over the last two years, but he's still a player who brings those other intangibles that you talked about. Let's just go back to one game for example, the Edmonton Oilers, they shut out Connor McDavid who was O'Reilly's lineup against McDavid for most of the game. McDavid finishes with just two shots on goal, they did a great job against him so I think it's more his game. The other game through three games he played on a line with Brandon Saad and Jordan Kyrou, Jordan Kyrou is not going to win the Selke award defensively, O'Reilly has to help there and Saad in a perfect world I think is playing third line with the blues. Right now, with the way they are set up, he has to play on the front line. I don't think there's any chemistry with that third line in St. Louis with Ryan O'Reilly.
You can watch the full episode here…