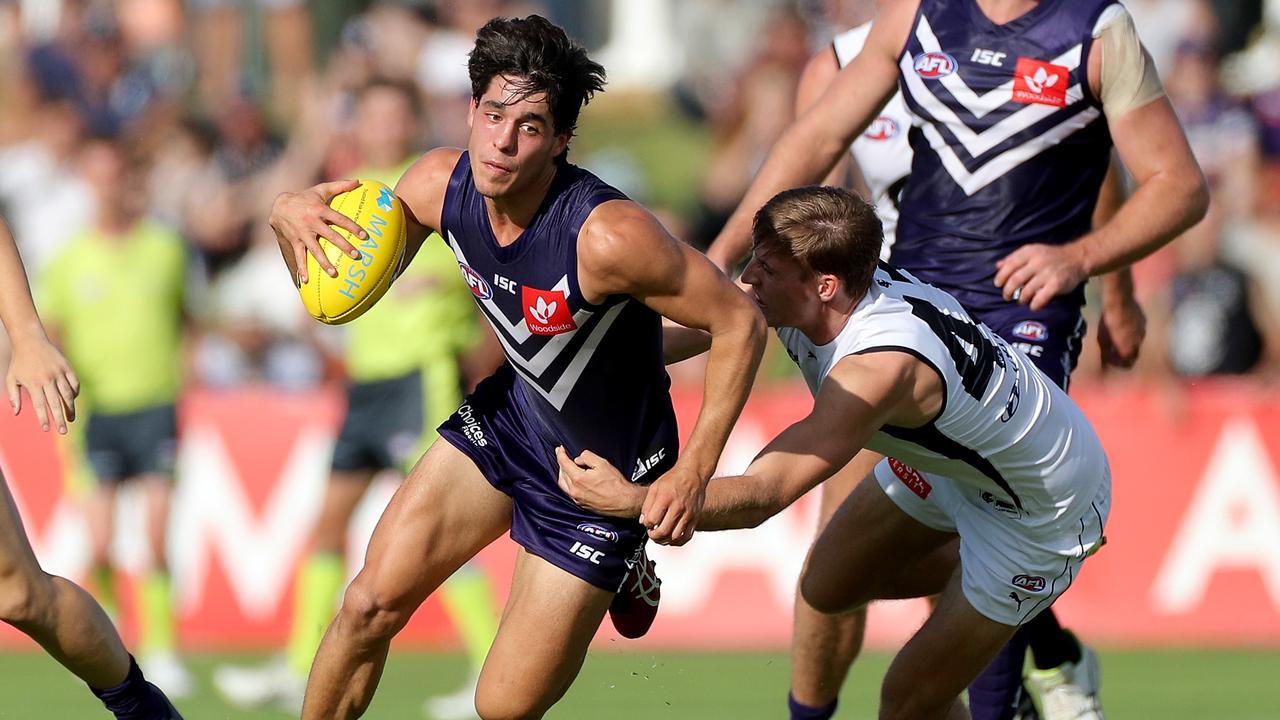 [ad_1]
It's official: Adam Cerra chose Carlton.
But there should be plenty of bargaining between Fremantle and Carlton over a proper deal for the guns midfielder.
Follow all the latest news and updates from the player movement in our AFL Live Trading Blog below!
For the latest AFL trading and free agency news, watch Trading Day every weekday of the trading period starting at 5:00 p.m. EDT on Foxtel and Kayo. New to Kayo? Try 14 days for free>
TO LISTEN THE LATEST EDITION OF FOX FOOTY PODCAST BELOW, OR PRESS TO SUBSCRIBE ITUNES WHERE SPOTIFY
2:50 p.m. – CERRA CHOOSES BLUES
Outgoing dock worker Adam Cerra has officially named Carlton as his preferred destination.
As reported by foxfooty.com.au On Saturday, Cerra was due to request a trade with the Blues earlier this week.
Fremantle confirmed on Wednesday afternoon that Cerra has officially named Carlton as her home for 2022 and beyond.
"Earlier today, Adam informed us that Carlton was his club of choice to continue his career in the AFL," said Dockers football boss Peter Bell.
"We will now enter into negotiations with Carlton to ensure that our club receives adequate compensation for a player of the quality and character of Adam."
Melbourne had also been on Cerra's serve, but the club's lack of choice and commitment to retaining key players meant it would be difficult to close a trade.
This means Fremantle and the Blues will get down to business soon to negotiate a suitable trade.
Any deal would surely include Pick 6, but the Sun Herald reported the Blues would also be invited to hand over a second draft pick in addition to their first selection. But the Blues will not want to postpone their second round selection (Pick 25) either.
It comes nearly 12 months after Carlton handed his first-round selection (Pick 8) to Essendon in a deal that saw Adam Saad land with the Blues.
Cerra, who was drafted with Pick 5 in 2017, will be leaving Fremantle after 76 games for the club. His decision to leave is almost entirely linked to family rather than football.
11AM – ANOTHER PICK BLUES COULD MOVE FOR THE EXIT
The Blues would face the prospect of severing ties with another top-10 draft pick.
While Cartlon is expected to give new coach Michael Voss the chance to topple Lochie O'Brien, the Sun Herald reports that the No.10 pick in the 2017 draft could be sent off as a delisted free agent.
O'Brien fell down the Blues pecking order to sit behind Jack Newnes.
The Blues are already ready to say goodbye to the 2016 Sam Petrevski-Seton's No.6 pick who headed to the West Coast
9:30 am – BIG BOSS UPDATE OF THE CROWS LIST
Adelaide List Manager Justin Reid appeared on AFL Trade Radio to discuss several topics ahead of the trade period, including:
– An update on the state of talks with Sydney on a deal with Jordan Dawson
– The chances (which are fading) of exchanging the draft order
– The Future of Taylor Walker
– Where there is interest in a free agent Roos
THE FULL STORY HERE
[ad_2]